Thomas Wolfe Auditorium | Asheville, North Carolina
Glass Animals come to Thomas Wolfe Auditorium on Monday 28th March 2022. The band recently announced dates for their North American summer tour, which they named after their latest album, Dreamland. Glass Animals is already on their "Dreamland Tour," performing in major cities of the United States and the United Kingdom. The band started their tour back in 2021. After getting positive reviews, it decided to keep on performing at different destinations to support its latest release. Glass Animals is renowned for putting up incredible rock performances and has produced many vibing hits such as heat waves. Fans all over the globe cannot wait for the performances, and hence ticket demand is always high. Go get your tickets booked now before they are sold out!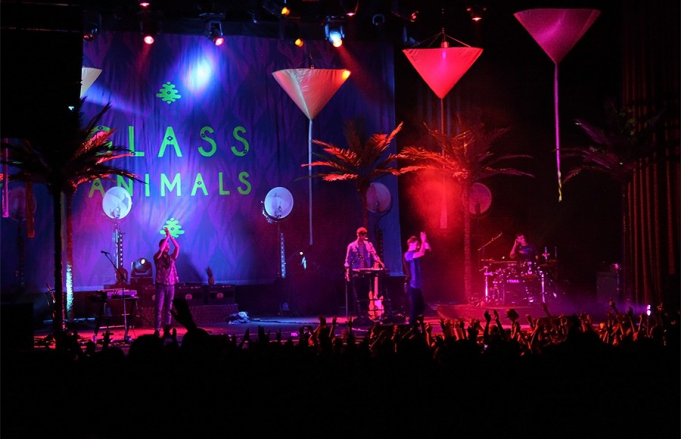 English rock band Glass Animals is famous all over North America for their indie rock, a modern kind of music. The band started producing music in 2012 and tasted success at a very early stage in 2014 when they released their first album, Zaba. "Gooey", one of the singles of Zaba, gained massive popularity among rock listeners and started attracting more audiences towards the band. Their second album, How to Be a Human Being, broke all their previous records and won the UK Album of the Year at MPG Awards. This release was a massive hit that resulted in positive reviews from music lovers worldwide. Their album, How to Be a Human Being, was also a very strong candidate for the Mercury Prize. Their latest album, Dreamland, secured the number two spot on UK Albums Chart and peaked at the number seven position at US Billboard 200.
Grammy nominee Glass Animals' style of music is a pure form of indie rock, indie pop, psychedelic pop and electronic rock, which is rare to find. Their unique rhythms and strong rock beats make them stand out from all other rock players. Glass Animals is gaining popularity at a very fast pace among all rock listeners, and fans are hugely anticipating performances on their ongoing Dreamland tour. Catch them live at Thomas Wolfe Auditorium on 28th March by getting your tickets ASAP!